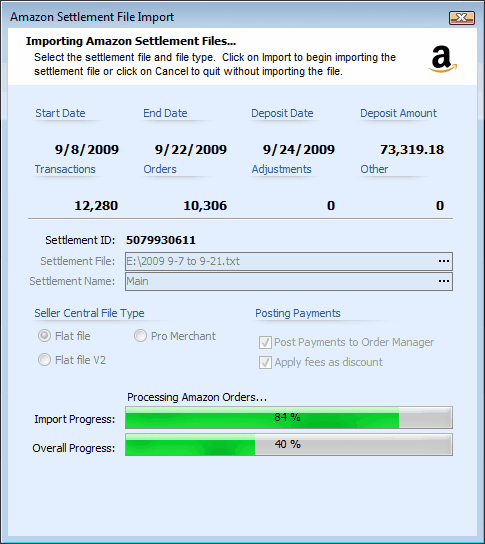 Periodically Amazon will post a settlement data file to your merchant account detailing all of the sales, fees, adjustments, etc. for the selling period specified. If you ever took a look at this file, you know it's no trivial task trying to figure what you sold, the fees paid for each SKU sold, the associated fees for each order taken, and the other fees associated for each settlement processed.
On top of all this, you have a daunting and time consuming task reconciling your Amazon settlement with your Order Manager orders. If you do not reconcile and verify your settlements, you could be loosing money and not even know it.
The Amazon Settlement Reports (ASR) add-on for Communiqué automates the entire reconciliation process for your settlement data files. You no longer have to spend countless hours finding discrepancies, matching Amazon orders to Order Manager orders, verifying payments for orders taken, etc.
ASR handles this for you in a seamless integrated and easy to use reporting module. The reports are detailed, yet easy to use and understand. After using ASR a few times, you'll be wonder how you were ever able to reconcile your Amazon settlements without ASR. What use to take you hours to do, now can be done in matter of minutes.
The ASR will show you variances between Amazon and Order Manager so you will be able to investigate the issue and resolve it quickly. You will be able to identify discrepancies between sales numbers reported by Amazon and Order Manager so you can determine the cause and resolve them in a timely manner.
The ASR will lighten your work load dramatically and eliminate unnecessary labor to reconcile your Amazon settlements data files. ASR frees up valuable time from your work day so you may attend to other equally important aspects of your business operations.